Cumulus Media's News Talk 640/WFNC-AM Morning Show Collects Almost 16,000 Pounds of Food for Fayetteville, NC's Second Harvest Food Bank Through Successful Community Drive
FAYETTEVILLE, NC – May 18, 2023 — Cumulus Media (NASDAQ: CMLS) announces that News Talk 640/WFNC-FM's "Good Morning Fayetteville With Goldy," collected a total of 15,780 pounds of non-perishable food items for Fayetteville, NC's Second Harvest Food Bank through a successful food drive and live broadcast on Saturday, May 13, 2023. The popular morning show broadcast live from the Food Lion grocery store on Raeford Road in Fayetteville. The successful campaign was held in conjunction with the USPS Letter Carriers' Stamp Out Hunger® Food Drive.
Jeff "Goldy" Goldberg, On-Air Host, "Good Morning Fayetteville With Goldy," welcomed to the show guests from the U.S. Postal Service and the Second Harvest Food Bank, as well as local politicians joined Good Morning Fayetteville throughout the week and on location to help bring attention and support to the fight against food insecurity in Cumberland County.
Goldberg said: "In a county where one out of every four children is food insecure and with the school year ending soon, it was more important than ever to make sure Second Harvest Food Bank was stocked up. Thanks to all our wonderful listeners for showing up and donating almost 16,000 pounds of food!"
News Talk 640/WFNC-AM already has plans in place for a Fall radiothon and food drive at a different location to be announced.
For more information or to stream News Talk 640/WFNC-AM, visit: https://www.wfnc640am.com/.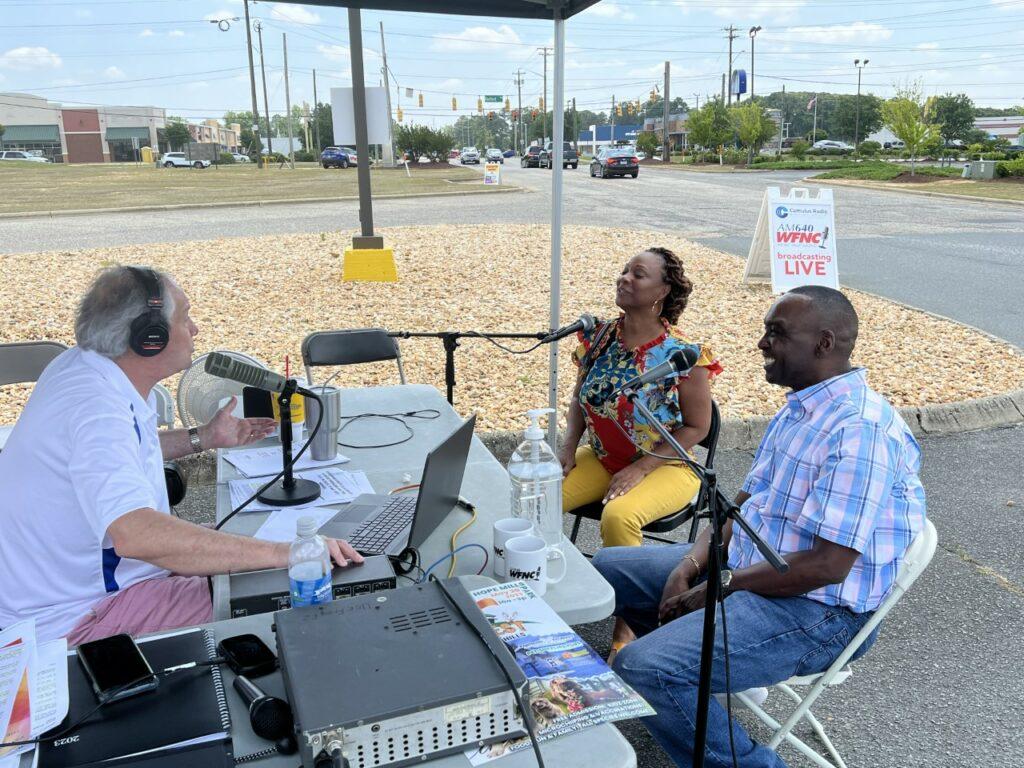 About Cumulus Media
Cumulus Media (NASDAQ: CMLS) is an audio-first media company delivering premium content to over a quarter billion people every month — wherever and whenever they want it. Cumulus Media engages listeners with high-quality local programming through 404 owned-and-operated radio stations across 85 markets; delivers nationally-syndicated sports, news, talk, and entertainment programming from iconic brands including the NFL, the NCAA, the Masters, CNN, the AP, the Academy of Country Music Awards, and many other world-class partners across more than 9,400 affiliated stations through Westwood One, the largest audio network in America; and inspires listeners through the Cumulus Podcast Network, its rapidly growing network of original podcasts that are smart, entertaining and thought-provoking. Cumulus Media provides advertisers with personal connections, local impact and national reach through broadcast and on-demand digital, mobile, social, and voice-activated platforms, as well as integrated digital marketing services, powerful influencers, full-service audio solutions, industry-leading research and insights, and live event experiences. Cumulus Media is the only audio media company to provide marketers with local and national advertising performance guarantees. For more information visit www.cumulusmedia.com.
 Contact: Lisa Dollinger, Dollinger Strategic Communication for Cumulus Media, 512.633.4084, lisa@dollcomm.com.