Cumulus Albuquerque Hosts Community Fire Relief Drive This Saturday at Cottonwood Mall
Cumulus Radio Personalities Will Collect Donations of Toiletries, Clothing, Baby Items, and Non-Perishable Food to Provide Emergency Relief to Those Affected by Hermits Peak and Calf Canyon Fires
Albuquerque, NM, May 20, 2022 – Cumulus Media (NASDAQ: CMLS) announces that Cumulus Albuquerque will hold a Fire Relief Drive on Saturday, May 21st, to benefit The Salvation Army Emergency Disaster Services (EDS) and provide emergency relief to people affected by the massive Hermits Peak and Calf Canyon fires in New Mexico. The citywide collection of needed supplies will be held Saturday from 8:00am to 4:00pm in the east parking lot of Cottonwood Mall, 10000 Coors Bypass NW, Albuquerque, NM. Cumulus Albuquerque on-air personalities and promotions staff will be on hand to collect donations of toiletries, clothing, baby items and certain non-perishable food items, which will be delivered to a Salvation Army-operated facility in Las Vegas, NM, by Just Sprinklers drivers and trucks.
Jeff Berry, Vice President/Market Manager, Cumulus Albuquerque, said: "We feel for the communities devastated by fires across our state and are honored to help get supplies to the people who need them most. This is all possible because of our community partners and listeners, who have come together with our radio stations and team to get these products to impacted communities as quickly as possible."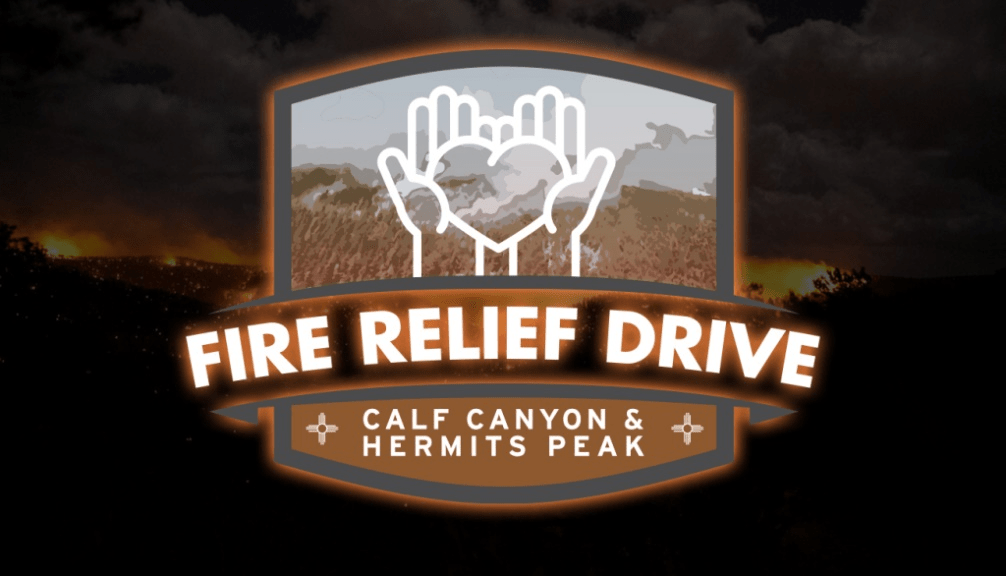 Captain Jeff Williams, EDS Incident Commander, The Salvation Army, said: "The Salvation Army is extremely grateful to Cumulus Albuquerque for launching this drive. The generously donated items from this drive will bring much-needed comfort to our New Mexico neighbors affected by this devastating wildfire event. We are truly blessed."
John Seaver, Owner, Just Sprinklers, said: "An outpouring from our Albuquerque community is what is needed now to be able to fill up our trucks and assist The Salvation Army at this time of need. I believe we can all answer the call and help offer immediate relief to our neighbors across New Mexico."
The Hermits Peak-Calf Canyon fire is now the largest wildfire in New Mexico history and is roughly 34% contained, having burned over 300,000 acres.
About Cumulus Media
Cumulus Media (NASDAQ: CMLS) is an audio-first media company delivering premium content to over a quarter billion people every month — wherever and whenever they want it. Cumulus Media engages listeners with high-quality local programming through 406 owned-and-operated radio stations across 86 markets; delivers nationally-syndicated sports, news, talk, and entertainment programming from iconic brands including the NFL, the NCAA, the Masters, CNN, the AP, the Academy of Country Music Awards, and many other world-class partners across more than 9,500 affiliated stations through Westwood One, the largest audio network in America; and inspires listeners through the Cumulus Podcast Network, its rapidly growing network of original podcasts that are smart, entertaining and thought-provoking. Cumulus Media provides advertisers with personal connections, local impact and national reach through broadcast and on-demand digital, mobile, social, and voice-activated platforms, as well as integrated digital marketing services, powerful influencers, full-service audio solutions, industry-leading research and insights, and live event experiences. Cumulus Media is the only audio media company to provide marketers with local and national advertising performance guarantees. For more information, visit www.cumulusmedia.com.
Contact:
Lisa Dollinger, Dollinger Strategic Communication for Cumulus Media, 512.633.4084, lisa@dollcomm.com.